Kansas City Zoological Gardens
Kansas City, Missouri
Our Rating:





outstanding
If there's one thing we love more than digging into some Gates BBQ when we visit Kansas City, it's visiting the world class Kansas City Zoo. The zoo is a good 200 acres in size and has a great variety of animals. We enjoyed getting up close and personal with kangaroos in Australia and were fascinated by the white tiger in Asia. The crown jewel of the Kansas City Zoo, however, is Africa. From the moment we passed the African elephants and crossed over the Blue River we knew we were in for a treat.
At 91 acres in size, Africa alone at the Kansas City Zoo is the larger than many North American zoos. Animals such as giraffes, rhinos, chimps, lions, and apes are housed in exhibits which largely mimic the animals' natural surroundings. In fact, one of the things that most impressed us about this zoo was the fact that most of the exhibits were animal-friendly.
The Kansas City Zoo was undergoing significant renovations in November 2005 when we visited, so we were unable to see the entire zoo.
IMAX

The Sprint IMAX Theater has features throughout the year. Click here to go to the Kansas City Zoo's web site for a schedule and showtimes.
Must-See Exhibits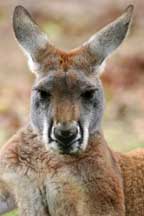 Africa - The quality of this part of the zoo is among the finest in the country. The entire exhibition is well-planned and animal-friendly.

The Kangaroos in Australia - When you go to Australia, don't be shocked by the fact that the kangaroos seem to be there among you with no barriers. This might frighten the very young, but the experience is one of the best in the zoo!
The Kansas City Zoo has a petting zoo for the kids. There are also a number of other opportunities such as train rides, camel rides, and Lorakeet feedings in the aviary.
Submit Your Comments